Medical Marketing Services
The cardinal approach to helping you market and
grow your medical practice
Find, Convert And Keep New Patients
What does it take to grow your patient base in the 21st century?
At the core of your digital marketing efforts is your website. Your website should be designed with both users and search engines in mind. At Cardinal, we custom-build websites for our medical clients that serve as the foundation of all of our ensuing digital marketing campaigns.
What does a Cardinal marketing strategy look like?
So much goes into growing your brand and connecting you with local prospects most likely to convert into patients. Aside from developing or redesigning your website, the Cardinal flock develops comprehensive strategies that include any or all of the following:
We Use Data, Evidence, And Expertise To Connect Your Practice
With Your Local Prospects And Patients
Get More Web Traffic
Increase Your Leads
Reduce Cost Per Leads
Rank Higher on Google
Ads Targeted at Local Audiences
Decisions Based on Data
Our Medical
Clients Love Us
"Our Google Advertising has generated over 30 leads in the last month and we have converted those into 5 surgeries."

To gain a better understanding of the current state of healthcare marketing, we surveyed more than 100 healthcare marketers and executives to learn how they're navigating the post-pandemic world.
Download the full report to learn their top marketing priorities, challenges, and investments and what you need to do to stay competitive and grow your healthcare organization.
Cardinal's Proprietary Marketing Technology Patient Stream's Benefits:
Double Your Patient Volume for the Same Spend
Dump the campaigns that don't generate returns. Our AI based marketing platform automatically optimizes towards the campaigns that are driving high value patients.
Executive Level Reporting
Give your CMO the reporting she didn't even know was possible. No longer do you have to report on cost per lead. With Patient Stream, you will now be able to report on Cost Per Patient.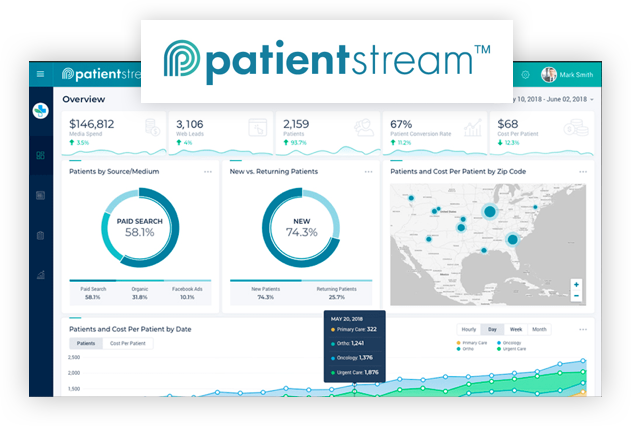 Ready to Rise Up on the Internet?
Fill out the form to get started!