How we successfully utilized social media to
increase brand awareness and customer
satisfaction.
Taco Mac: A Unique Name for Unique Food
Taco Mac – no, it's not a taco shack that also serves mac-and-cheese. Taco Mac is a Buffalo wings sports grill known throughout the Southeast for its award-winning wings and "the most draft on top" in the Southeast. It also caters to those who enjoy burgers, chicken, sandwiches and flat-breads. All of this is offered with a gracious dose of Southern hospitality.
Why Taco Mac reached out to Cardinal
Although Taco Mac has grown from a single restaurant in Atlanta to having a presence in every major neighborhood throughout the greater metro area and into North Carolina and Tennessee, the restaurant had flatlined with regards to customer conversion and spending. When Taco Mac came to us, they wanted to increase their customer volume at restaurants and get a stronger grasp on their reputation now that they had almost 30 restaurants. With these two items in mind, Taco Mac looked for a digital marketing company that had a proven track record and a history of success within the restaurant industry at gaining an immediate and worthwhile return on a company's investment. That's when they reached out to Cardinal.
Cardinal's proposition to meet those goals.
With the goal of increasing customer volume in mind, Cardinal came up with a strategy that would leverage existing customer data to identify potential new customers online. We analyzed their existing email and loyalty program lists to create segments of highly valuable prospects that could be used to model a lookalike audience. Through data analysis, Cardinal identified 5 core
audiences for social media advertising:
Lapsed customers who hadn't visited for 180 days or more
Existing customers who aren't visiting more than 1x per week (non-regular past purchasers)
Brewniversity loyalty program members
Sports and beer enthusiasts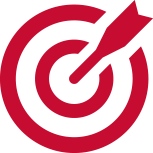 Incremental sales
through new
customers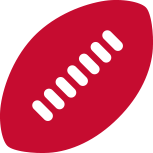 Visibility during
major sporitng
events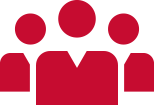 Increase purchase
frequency of
existing customers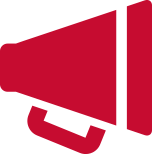 Disrupt competitors
with conquesting

Cardinal's plan in action
Tackling how to increase customer volume first, we started with a robust Facebook and Instagram advertising strategy designed to convey Taco Mac's revised brand look, updated menu options, and continued dedication to excellent customer service.
Campaigns were segmented into 3 core groups to align messaging and value propositions with the audience we were trying to reach….
Beer Aficionados:
featuring a rotating carousel of this month's 'Beers of the Month',
customers from our Brewniversity list and beer interest categories were enticed to visit their local neighborhood Taco Mac to try out the limited-edition beers and take home a custom pint glass from that brewer.
Sports Enthusiasts:
using custom video spots produced by Cardinal's media team, we took advantage of real-time events to entice customer to stop by Taco Mac to watch their favorite team. Starting with Winter Olympics in February, our sports enthusiast
audience were propositioned by the Wings for Winners program > anyone who is enjoying a meal or drink at Taco Mac when US wins a gold medal will get a FREE 6 pack of wings to be redeemed at their next visit. The campaign was
designed to promote loyalty and easy social sharing.
Family / Lifestyle:
The largest of our campaigns targeting past customers, lookalike models and competitor customers, our Family/Lifestyle campaigns honed in on Taco Mac's biggest value prop in 2018: their new
partnership with Spring Mountain Farms to bring Atlanta the best chicken wings around. Ads also
utilized a custom video featuring shots from Spring Mountain Farms all the way through tossing of wings in the sauce. The message: We've teamed up with local farms to bring Atlanta the best chicken wings in town.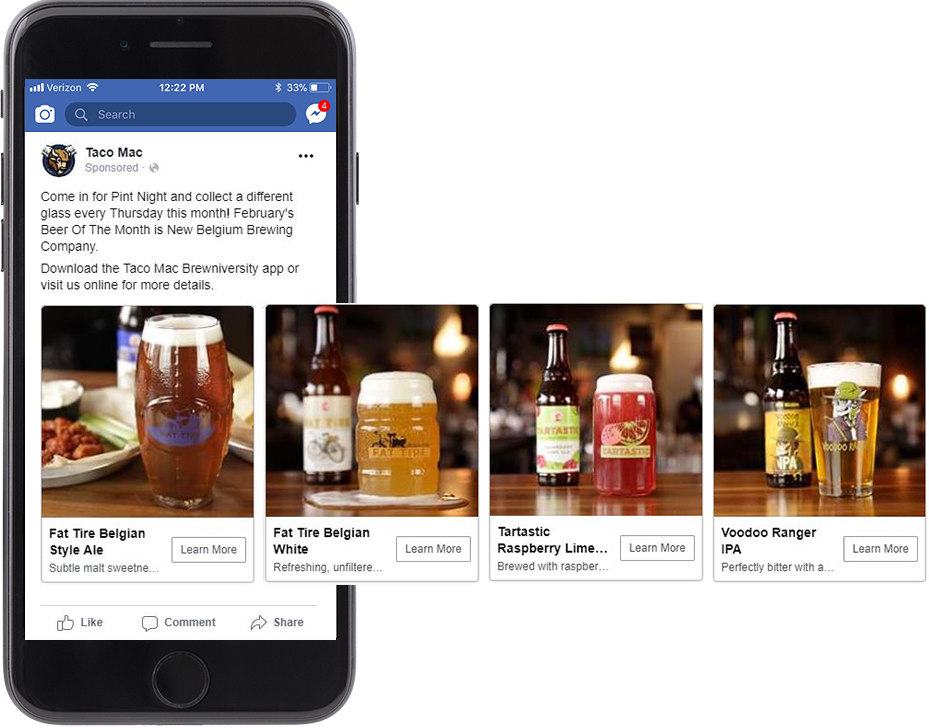 Thinking outside the box
Developing campaigns that served the right message to the right customer was the easy part. The challenge: tracking effectiveness of online marketing for a business that is primarily driven by foot traffic and in-restaurant transactions. Although increasing online ordering and carryout business is the goal of virtually any brick-and-mortar restaurant, it typically makes up a small portion of the total trackable sales. Such was the case for Taco Mac.
Rising to the challenge, we thought outside the box and utilized the store visits feature on Facebook to track how many people visited a restaurant after being exposed to an ad. This feature not only allowed us to optimize ad campaigns based on actual in-restaurant activity, but we were able to share estimated ROI based on number of in-store visits X average ticket. Uploading offline data back into Facebook from the restaurant's POS also allows us to better understand core advertising components such as peak time of day, day of week, redeemed offers, etc.. Not only were the campaigns effective within their channels, but data cleaned from Facebook would then be used by the Taco Mac marketing team to inform offline marketing decisions.